Extreme
Fire blankets
The fastest, simplest and most eco-friendly way to isolate and extinguish fires - even in lithium batteries.

Even a small fire can cause tremendous damage. If it gets out of hand, the consequences can be disastrous. The Bridgehill Extreme Fire Blanket enables you to isolate the flames from a small fire in seconds.
The fire blanket comes with a metal chain integrated to add weight for easier use. 
The Extreme fire blanket comes in three different sizes and are ideal for battery fires, restaurant kitchens, industry tools, the recycling industry, workshops, storage for small or large amounts of lithium batteries, marine, aviaion and military. 
How it works
Place the Bridgehill Extreme Fire Blanket over the burning object to immediately isolate the flames. The fire will soon extinguish due to lack of oxygen. Lithium batteries will continue to burn even without oxygen or treatment with normal fire extinguishers.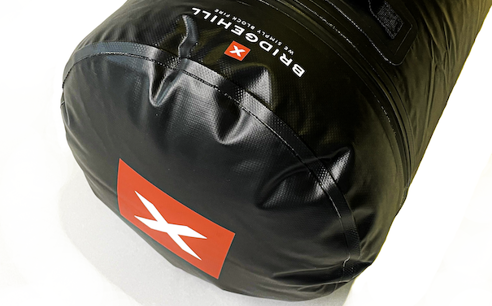 Step 1 – Get ready
Take the fire blanket out of the smartbag.
Step 2 – Cover the fire
Gently cover the burning object.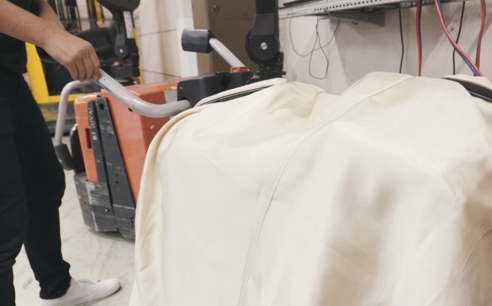 Step 3 – Wait 20 min
Make sure the fire blanket is tight all the way around the burning object. Wait at least 20 minutes before you remove the fire blanket.
Where to use

Hotel, restaurant and catering
With high temperatures, open flames and cooking oils, fires can easily break out in large kitchens. A Bridgehill Extreme Fire Blanket should be easily available in every kitchen to enable staff to isolate a fire quickly, before it causes additional damage and downtime – or endangers lives.

Industries and offices
Offices and other industrial spaces are at high risk of fire due to the presence of tools, electronics and other equipment. It's crucial to immediately stop any small fires from spreading to other flammable material nearby. A Bridgehill Extreme Fire Blanket should be available on every floor.

Laboratory
Laboratories and test centers often contain flammable material or explosive substances. Therefore, it's essential that any small fires are stopped immediately to ensure they don't spread. A Bridgehill Extreme Fire Blanket should be easily available on every floor and close to any explosive material.
Auto repairs
Auto repair and other workshops are at an increased risk of fire due to the presence of power tools, electronics, lithium batteries and spilt oil or gasoline. A Bridgehill Extreme Fire Blanket should be easily available so any small fire can be quickly isolated.
Why it works better than powder and water
Traditional fire extinguishers, such as foam and water, release toxic fumes into the air and hazardous liquid onto the ground – endangering staff, damaging equipment, and requiring extensive cleanup. A Bridgehill Extreme Fire Blanket doesn't. Not only that, but it also enables you to reduce the smoke immediately – to protect people and property from the fumes.

It's simply the safest, fastest, cleanest, and most environmentally friendly way of stopping fire.
Fast and effective – works in seconds
Simple – can be used by anyone
Clean – no water damage
Eco-friendly – reduce toxic fumes or liquids
Universal – even works on small electric batteries
Get in touch with us
From our headquarters in Larvik, Norway, we work with partners across the world.

If you have any questions or want to become a reseller of our products. Here`s how you can get in touch with us.